Relative shaft vibrations
Guide bearings task is to ensure stable dynamic and static behaviour of the rotor in all operating conditions. Therefore monitoring the oil film inside the bearing is the most important part of the vibration monitoring on rotating machines. Oil film consistency and stiffness is critical in defining the machine dynamics alongside the masses involved in the rotor vibrations.
Relative Shaft Vibration measurements are conducted using contactless displacement sensors positioned in two perpendicular directions.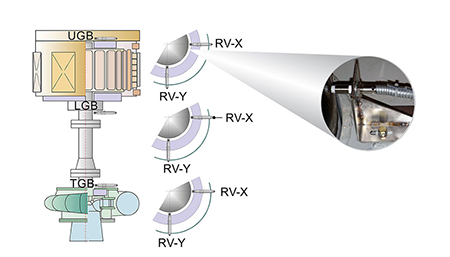 Faults and conditions detected

Rotor dynamics problems (mechanical, electrical, hydraulic unballance)

Rotor line geometry problems – Run Out

Shaft dynamic and static position inside the bearing

Shaft to bearing rub
Typical configuration

2 Displacement probes in perpendicular direction in each guide bearing planes (typically 4-10 sensors per unit)

CoDiS RT – on-line monitoring and protection instrument

CoDiS DM – on-line and off-line diagnostic software